Client: Ruggedised Vehicle Tracking Cable Assembly
Application: Industry Vehicle Tracking System
Quantity: 10,000+
Client:
One of the global leaders in construction equipment, transport and machinery, this company produces a range of 150 different models to ISO countries throughout the world.
Combining the highest quality ruggedised manufacturing with state-of-the-art computerised and satelite technology, this is a truly world-class company.
---
Brief: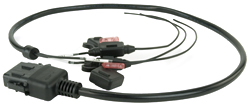 The client's range of construction vehicles are all available with an advanced vehicle management and tracking telematics system, providing real-time location and maintenance monitoring of each customer's assets.
CIE Electronics were requested by the client to produce a ruggedised, IP-rated cable loom to connect the monitoring system to the vehicles' on-board electronics.
Specification for the cable loom required the use of existing Deutsh connectors, high IP-rating and ruggedisation capable of withstanding high temperatures and increased levels of misuse.
---
---
The Solution:
The CIE team used the customer's specified existing Deutsch connectors and produced new custom tooling for over-moulding in two stages, providing a high ingress protection rating and considerable extra strength.
The IP-rated protection also extended to the two in-line fuse holders. Teflon wire and PC material were also used to withstand higher than usual temperatures experienced due to the cables' close proximity to the vehicles' engine block.
---
---
Let the CIE Electronics team help with your next product or component design-to-manufacture project
CIE Electronics is one of the UK's leading UK end-to-end design, manufacture and supply service providers. Our expert team of electronics solution providers would be happy to discuss your next product or component project; please call the team on T. 0115 9770075 or email info@cie-group.com