Client: Major Industrial Analytics Manufacturer
Application: Intrinsically-safe Test Computer
Quantity: 1,000,000+
Client:
This major analytics manufacturer produces a wide range of test instruments and industrial & on-site testing equipment, where IP and ATEX approval are a key specification for all instrumentation.
---
Brief: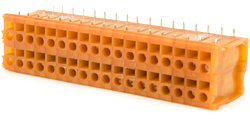 CIE Electronics were asked to provide a custom-designed, pitch-mount, modular terminal block to meet the specifications of the customer's unique PCB.
Designed to connect test cells to an instrinsically-safe industrial computer, a key element of this custom connector was an extremely challenging target cost figure.
---
---
The Solution:
CIE Electronics worked with our custom-connector partner facility to produce tooling for a 36-way ABS moulded terminal block.
This custom connector features an interconnecting modular design which allows for flexible multi-port configurations.
The project required a manufactured quantity in excess of 1 million units, stocked at CIE's UK central warehouse and supplied on a call-off basis.
---
Let the CIE Electronics team help with your next product or component design-to-manufacture project
CIE Electronics is one of the UK's leading UK end-to-end design, manufacture and supply service providers. Our expert team of electronics solution providers would be happy to discuss your next product or component project; please call the team on T. 0115 9770075 or email info@cie-group.com