Switchcraft - leading manufacturer of professional and industrial cables & connectors - has released the latest in their series of low profile DC Power Jacks.
Switchcraft DC Power Jacks with 30% Lower Height DC
This new series low profile DC Power Jacks are especially designed for today's compact electronic devices, reducing the distance from the PCB to the center of the jack from 0.330" to 0.230". Only the height dimensions have changed, they still mate with standard plugs from Switchcraft or other manufacturers and the overall design remains the same. They are available with a full range of center pin diameters and bushing lengths with standard and high temperature options.

Specifications
Mechanical:
Life: 10,000 insertion/withdrawal cycles minimum
Insertion/Withdrawal Forces: 3 pound max. insertion, 4 ounce min. withdrawal
Electrical:
Contact Resistance .01 ohms maximum
(initial) .02 ohms maximum (after humidity,
durability exposure), .1 ohms maximum (after salt)
Insulation Resistance: 10,000 MΩ minimum (initial), 1,000
MΩ minimum (after humidity, durability exposure
Dielectric Voltage 500V AC maximum
Contact Rating (Std.): 5A, 12V DC resistive.
(High Temp): 7.5A, 12V DC restive
Environmental:
Thermal Range (Std.): -55°C to + 85°C.
(High Temp): -40°C to 105°C
Humidity: Meets MIL-STD-202, method 106D.
Thermal Shock: Meets MIL-STD-202, method 107D
Salt Spray Meets MlL-STD-202, method 101
Material:
Housing: Molded plastic (High Temp = High PBT)
Mounting Bushing Plated copper alloy
Hex Nut: Plated copper alloy
Pin: Plated copper alloy
Spring: Plated copper alloy
Terminals: Plated copper alloy
Insulators: Rigid plastic
Hardware: Supplied with one Number P2439 nickel-plated
brass hex nut, and one Number P2441 nickel
plated steel flat washer
Switchcraft series of low profile DC Power Jacks Order Codes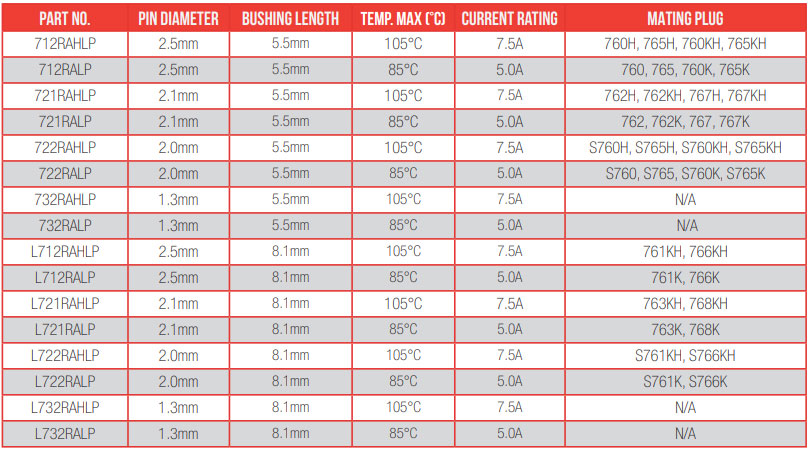 Contact the CIE Electronics team for more information
CIE is the main UK distributor for the complete range of Switchcraft and Conxall professional connectors and cables. Please contact the team today for full details, product pricing or samples.